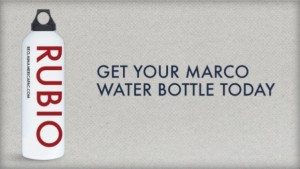 By Michael Beckel, PublicIntegrity.org
Digital strategists Teddy Goff and Zac Moffatt worked for warring candidates during the 2012 presidential election, but they both agree that successful politicians going forward will fully embrace online engagement — and reap financial rewards from it.
Moffatt, Republican presidential candidate Mitt Romney's digital director, points to Sens. Marco Rubio, R-Fla., and Rand Paul, R-Ky., as candidates with particular online fundraising savvy — and both rising stars in the U.S. Senate who may be considering 2016 presidential bids.
"It'll be interesting to see how much Rand Paul raised off the filibuster," Moffatt said, alluding to Paul's nearly 13-hour talk-a-thon in March against the confirmation of John Brennan to be the new CIA director.
Moffatt also remarked on how Rubio, who faced criticism and ridicule in February about drinking from a water bottle during his rebuttal to President Barack Obama's State of the Union Address, turned a potential gaffe into an online fundraising opportunity.
Rubio's tactic? Offer reusable Rubio water bottles for a donation of $25 or more, with the cash benefiting his Reclaim America PAC.
Today, the first three listings returned from a search on Google for "Rubio water bottle" pertain not to the senator's liquid-guzzling speech, but the success of his water bottle fundraiser.
To read more, visit:  http://www.publicintegrity.org/2013/04/10/12478/political-strategists-praise-power-online-fundraising