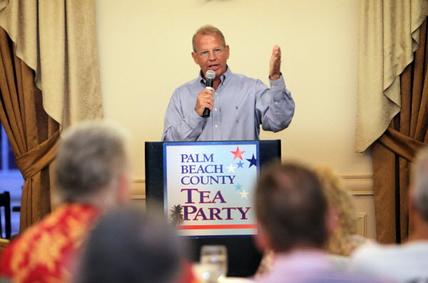 By GEORGE BENNETT, Palm Beach Post
WELLINGTON — Rick Scott proved an outsider who spends more than $70 million of his own money can get elected in Florida. Mike McCalister is testing whether an outsider without Scott's personal fortune can win.
"I'm not a politician and if that's what you're looking for, I'm not your guy," McCalister told a tea party audience of about 100 west of Boca Raton on Monday night.
On Tuesday, he introduced himself to a different tea party crowd of about 80 as a "God-fearing, America-loving, flag-waving, gun-owning businessman who's running for U.S. Senate."
McCalister's campaign raised a meager $12,171 through June 30. But he emerged last week as the surprise leader among 2012 Republican Senate candidates in a Quinnipiac University poll.
McCalister topped the four-candidate field with 15 percent support in a poll that found 53 percent of Republicans undecided. Trailing McCalister were former appointed Sen. George LeMieux (12 percent), former Ruth's Chris Steakhouse CEO Craig Miller (8 percent) and former state House Majority Leader Adam Hasner (4 percent).
Veteran politics watchers were flummoxed.
To read more, visit:  http://www.palmbeachpost.com/news/state/surprise-leader-in-florida-gop-race-for-u-1718464.html