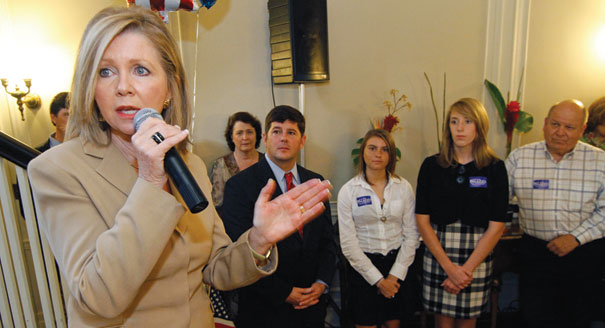 By JENNIFER MARTINEZ, Politico
In the first few weeks of 2011, Rep. Marsha Blackburn didn't just test the tech policy waters, she dove in head first.
On the opening day of the 112th Congress, the Tennessee Republican reintroduced a bill to bar the Federal Communications Commission from instituting net neutrality rules. Days later, she spoke on an online privacy panel at the geek equivalent of the Oscars: the International Consumer Electronics Show. Last week, she keynoted the State of the Net conference — the biggest tech policy fete in the capital so far this year.
Blackburn's turf, however, is far from the tech hubs of Silicon Valley, New York's Silicon Alley or Boston's Route 128 corridor. She's from Brentwood, Tenn., a suburb of Nashville, known more for producing country music than silicon chips or Web startups.
The tech community has taken notice.
"She seems to be doing more keynote addresses and taking much more of a visible role," said Darrell West, founding director of Brookings Institution's Center for Technology Innovation. "There's been great public interest in tech, and she's taken advantage of that to carve out a niche in tech policy."
Blackburn says she's been active all along.
"Maybe some people just weren't paying attention," Blackburn told POLITICO. "But I'm glad they are now."
To read more, visit: Will Marsha Blackburn be GOP's next tech policy champion?