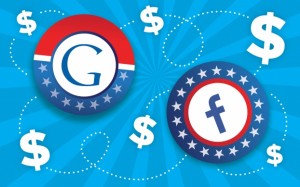 By: Kate Kaye, Ad Age
Big brands and agencies are used to lots of attention from Facebook and Google, so it's no surprise the presidential campaigns, with their vast ad budgets, got some, too. But as the election fades, Ad Age has learned more about just how closely the two largest sellers of digital advertising worked with the campaigns, even sending employees to work onsite at campaign offices and their respective digital consultancies.
"Google staffers were hand-selected by Google to sit in our office and help us," confirmed Zac Moffatt, digital director for Mitt Romney's campaign. Multiple people who worked closely with the Barack Obama campaign did not respond to requests for interviews.
"Facebook serviced both the Obama and Romney campaigns as closely as we would any big client," said a Facebook spokesman, though he declined to name or number the employees who worked for President Obama and Mr. Romney.
Digital and social-media platforms, particularly Google and Facebook receive large portions of online political ad budgets. But they also require a new level of specialized expertise. The speed of political campaigning demands constant attention as messaging and targeting are adjusted on the fly. In addition, Google and Facebook frequently change aspects of their ad platforms, creating a desire for someone intricately familiar with them.
To read more, visit:  http://adage.com/article/digital/election-embeds-facebook-google-cozy-campaigns/238693/